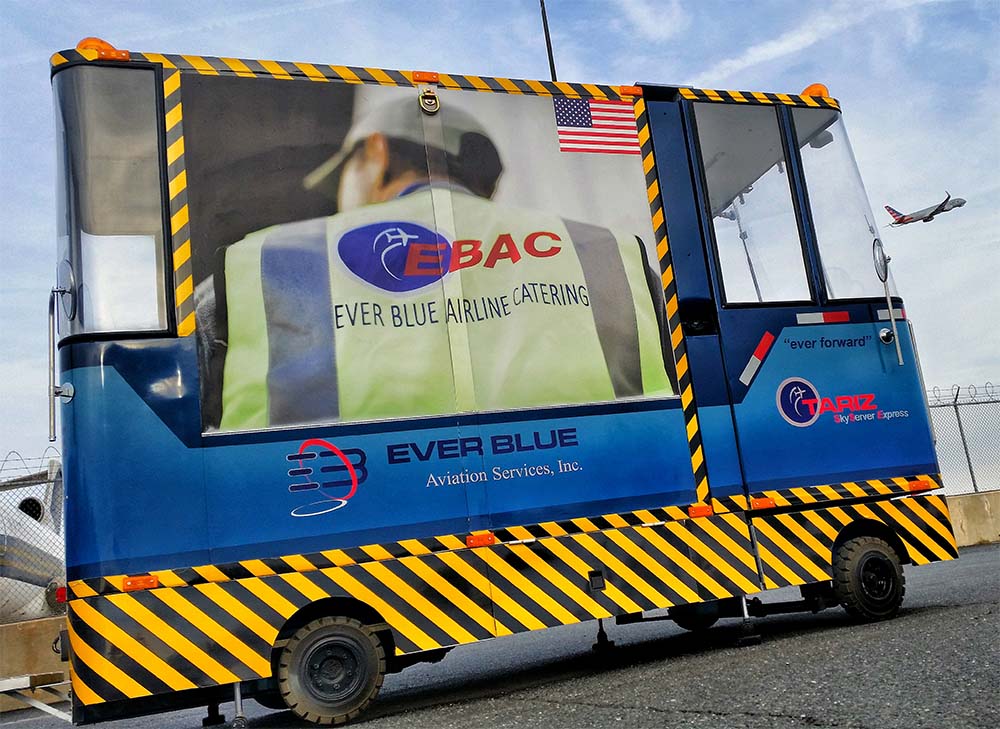 TARIZ SkyServer™ ACV (Aircraft Catering Vehicle)
After six years of planning, two years of engineering and one year of concept production, Ever Blue Aviation Services, Inc. is proud to introduce the TARIZ SkyServer™ ACV.  This device is a revolution in the field of aircraft servicing.  It is the first vehicle designed from the ground up specifically for aircraft catering.  This is no modified golf cart or repurposed ice cream truck.  Rather, Ever Blue created TARIZ exclusively to serve the needs of the airline industry.  Its features go above and beyond industry standards
Three sensors which monitor and measure proximity to the aircraft ensuring the perfect distance, every single time.
Interlock Safety System guaranteeing safety 100% of the time.
Integrated Computer Safety Control System, pre-programmed for airport rules and regulations.  TARIZ SkyServer™ ACV knows where to stop, how to stop and how high to lift based on aircraft type.
Climate control unit for better food handling
Four stabilizers, rated two tons each.
All power components rated twice what is needed.
24 flashing brake lights ensuring visibility.
Along with these incredible, industry changing features, TARIZ SkyServer™ ACV also provides FULL CART SWAP catering services to any size of regional jet, at any airport, anywhere in the world. There are many more "must sees" on the device.  Please contact us for more information or to schedule a demonstration. At Ever Blue Aviation Services, Inc., safety is (read more) our primary concern.  Our engineers have gone above and beyond to ensure that our aircraft catering vehicle (ACV) operates with the highest degree of precision and accuracy, guaranteeing a safe environment not just for our clients, but also for our employees. Our innovation did not stop there.  We put this same forward-thinking philosophy to the test when we created an entirely new management system that we feel gives us the edge on our competitors.  Our company is employee owned and operated, meaning every single man and woman who go to work for Ever Blue Aviation Services, Inc., have a vested interest in its success.  Not only does this incentivize efficiency, but it fosters an environment that supports the highest level of performance from all of us. We feel that this combination of technologically advanced equipment, complimented by an evolved management structure earns us a place as one of the safest and most efficient aviation service companies in the world.(read less)
Stay tuned, more innovations are on the way.